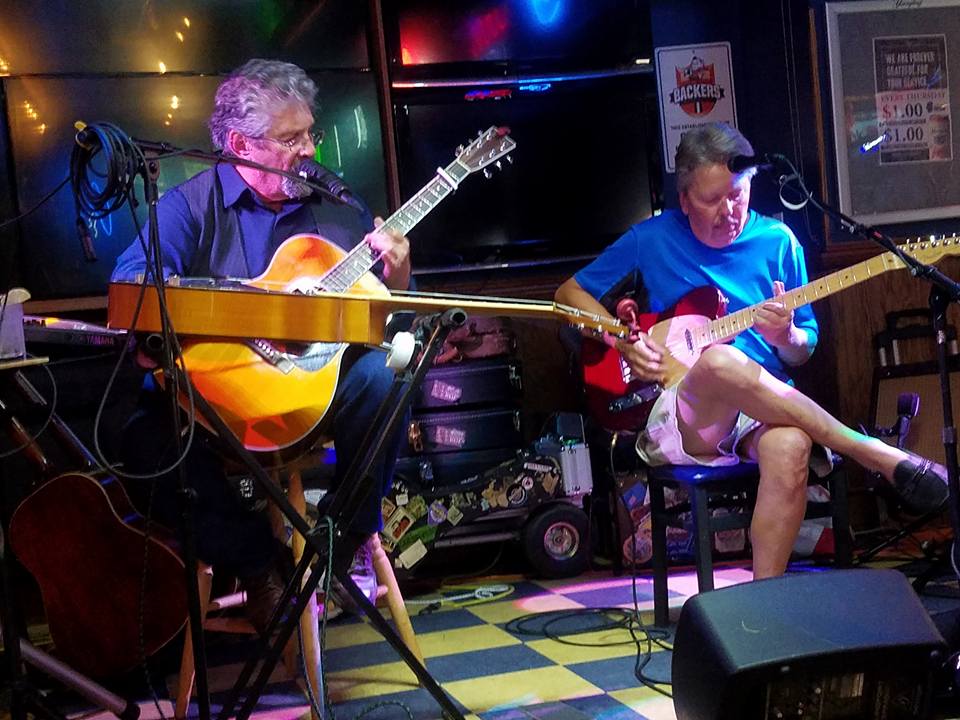 Pernetti & Hill
Pernetti and Hill is a dynamic partnership formed in 2016 comprising two guitarists of exceptional quality, each with extensive performance careers of their own. Now together, they form an act combining their extraordinary talents. They present unique and interesting music with a full and original sound. Pernetti on vocals and slide guitar and Hill on lead guitar and harmonies. The sound is very melodic, and appealing, showcasing the talents of each player.
Guy Pernetti's musical experience began at the age of eight when he was given his first guitar. At fourteen he was composing original flamenco and classical styled pieces. He began playing publicly in coffee houses and restaurants, and then on radio programs, colleges, and concert venues.
In competition, Pernetti won a spot to perform on Art Linkletter Productions, Disney Channel program, UP AND COMING. also after a first place win in the talent competition at the Kent State Folk Festival 2004, he opened for Maura O'Connell. For three and a half years he served as Musician in Residence through University Circle Inc.'s joint effort with the Cleveland Veterans Administration Hospitals, and National Endowment for the Arts. Pernetti also earned a spot on the Kent State May 4 Project with an original composition.
On stage, he has opened for such acts as, Leon Russle, Dan Hicks and the Hot Licks, Graham Nash, The Ohio Ballet, Buffy Saint Marie, David Allen Coe, Brian Auger and The Oblivion Band, David Lindley, Greg Brown, and Chris Thomas King. Recently Pernetti was on tour through St Louis, Dallas, and Kansas City, and also performed at Treadgill's in Austin for the 2016 SXSW. Guy Pernetti has earned a reputation for clean and beautiful guitar work, along with unique vocal interpretation. He sings and plays with various styling and special tunings that express an intimacy and feeling for the music. Performing on a wide variety of styles and guitars, including Dobro and Hawaiian slide guitars, he also plays and writes for the electric, steel six string, and classical guitars, as well.
Joe Hill, originally from the Washington DC area, started his professional music career playing with guitar great Danny Gatton, then Roy Buchanon. Joe performed with Tommy James and the Shondells, the Cherry People, and many others. He has shared the stage with the likes of Three Dog Night, Steppin' Wolf, Foghat, Johnny Winter, Aerosmith, Koko Taylor, and Cheap Trick. He currently does session work in many area studios and performs with Guy Pernetti. Joe's expertise on guitar astonishes audiences across the country, with many variations and tasteful interpretations of guitar solos, he adds a creative and beautiful addition to any music he engages in.