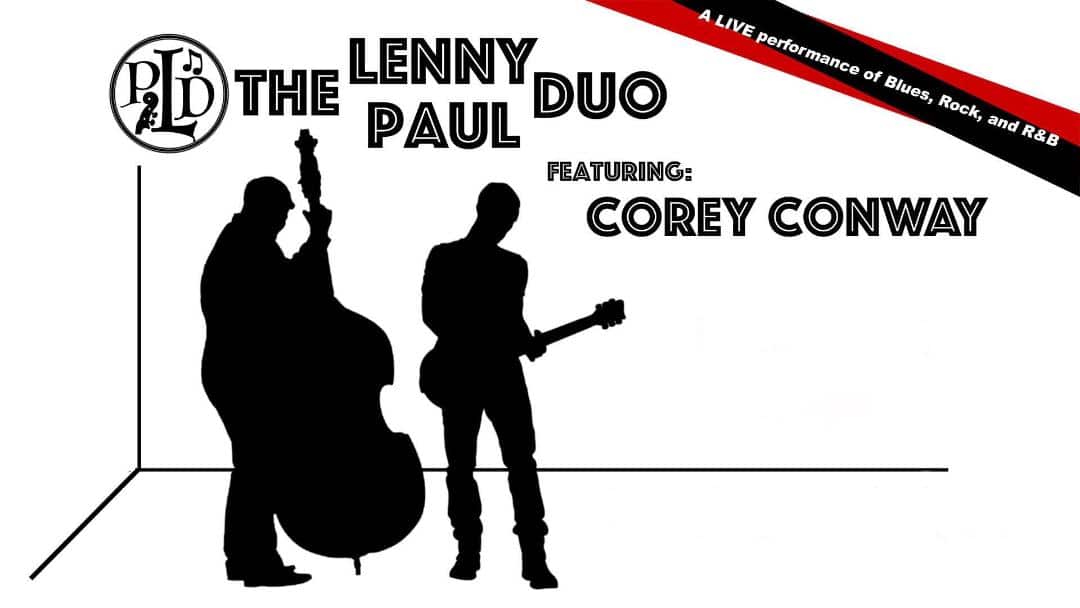 Lenny Paul Duo
Joining Lenny Paul on upright bass will be original blues, funk, soul, rock artist Corey Conway on guitar.
Lenny Paul got his start at an early age, having grown up in a musical family. His mother would sing opera tunes around the house while his father and brother played the accordion. Family gatherings would often include singing while his uncles played guitar and clarinet. After spending some time with the accordion and saxophone, Lenny got his hands on an electric bass when he was 12. Maintaining a diet of Rock 'n' Roll, Motown, R&B, and various other genres, Lenny continued learning his primary instrument, and began working in various bands playing all types of music. However once he heard "the Blues" he knew he had found his place.
Performing more often than not as a sideman in bands, Lenny ventured into the guitar world 10 years ago so that could become the frontman that he is inside. From there he developed The Lenny Paul Band, a project he maintains currently in Northeast Ohio.
Throughout the years, Lenny has been fortunate enough to call many places his home: Ohio, Philadelphia, and Houston. All three places have lead to him connecting to super talented blues musicians, such as: Jonn Del Toro Richardson, Sean Carney, Shaun Booker, Sonny Boy Terry, Diunna Greenleaf, Bob Margolin, RJ Misho, Anson Funderburgh, Rich Del Grosso, and many more.
(His time with Sonny Boy Terry included placing in the semi-finals at the International Blues Challenge in Memphis, in 2010.)
When living in Philadelphia, Lenny joined his first Zydeco band, Zydeco-A-Go-Go, in which he played for 4 years. Moving to Houston, he continued to play blues and Zydeco, including with Raa Raa Carter & the Zydeco All-Stars. He currently plays with the great party-gras band, Mo' Mojo.
Lenny recorded extensively as a sideman for various blues and R&B albums, and a has Zydeco record with Zydeco-A-Go-Go. His most recently released frontman work features The Lenny Paul Band with the CD, "Ready Already". This record consists of nine original songs, written by Lenny. Other CDs include "Brotherhood", with John Marković and "Meet You In Philly" featuring Sonny Boy Terry from Houston, Texas.
Lenny continues to tour extensively both in the U.S., Central America and Europe. The countries in which he has toured include: Canada, Costa Rica, France, Belgium, Netherlands, Germany, Austria and most recently (Sep. 2018) a 30-day tour of Poland, Czech Republic, Austria and Slovakia.